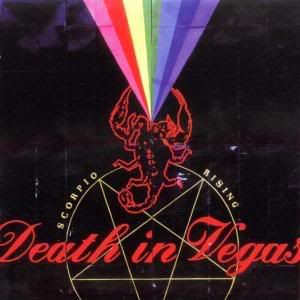 3rd album from Richard Fearless & Tim Holmes aka
Death in Vegas
and a return to their electronic rock roots. (if that makes any sense?) This album captured the mood at the time I reckon, electronica was a little restless and looking for a new genre and just before the
Hoxton
kids stepped up and stole our 80's nostalgia from under our noses acts like Death In Vegas were laying the foundations for labels like
DFA
to make an appearance. This album featured a number of high profile guest vocalists, including:
Nicola Kuperus – vocals on "Hands Around My Throat"
Susan Dillane – vocals on "23 Lies," "Girls"
Liam Gallagher – vocals on "Scorpio Rising"
Hope Sandoval – vocals on "Killing Smile", "Help Yourself"
Paul Weller – vocals on "So You Say You Lost Your Baby"
Dot Allison – vocals on "Diving Horses"
The standout track for me has always been "Hands Around My Throat" used on that Sony Ericsson add a while back, "Scorpio Rising", also "Girls" is not too bad either. In fact its all pretty good, if you're in the right mood. I'll also add that I saw them live at that UCL Union in London about the time of this release, beer was way too cheap and the crowd way too young. I had a great time though, so much so I bought the t-shirt.
Tracklisting:
1. Leather (3:30)
2. Girls (4:30)
3. Hands Around My Throat (5:07)
4. 23 Lies (3:49)
5. Scorpio Rising (5:37)
6. Killing Smile (4:49)
7. Natja (3:50)
8. So You Say You Lost Your Baby (3:00)
9. Diving Horses (5:11)
10. Help Yourself (10:31)
Download at 192kbps