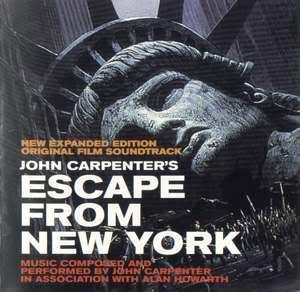 I saw this movie for about the 10th time recently and was once again blown away by the quality of the music and of course some of one-liners from
Snake Plissken
.
John Carpenter
is a talented fella to say the least and worked closely with Alan Howarth in producing this cult classic soundtrack. I've also been noticing more and more of today's minimal and tech producers borrowing sounds and styles from it. Check out
Booka Shade
's latest album who's track 'Duke' I suspect gets its title from the character of the same name in the movie, played by the late
Issac Hayes
no less. They have clearly been influenced by track 20 (President At The Train) and I also noticed that they recently used track 17 (Arrival At The Library) and track 2 (The Bank Robbery) in their DJ Kicks
compilation
.
I'm also a big fan of
Principles of Geometry
and if this is floating your boat you should check out their album
Lazare
, one of my favourite albums from 2008.
Download at 320kpbs