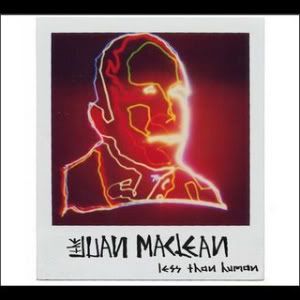 One of those albums that will grow on you if you allow it. I've managed to convince others on it including introducing it to mainstream
Hot Chip
fans. Anyway, interesting background to Juan and his involvement with
James Murphy
(LCD Soundsystem) and
DFA Records
.
From Wikipedia:
"Maclean was guitarist for the indie Dance-punk band Six Finger Satellite, based in Providence, Rhode Island. The band was struck by several tragedies, and Maclean eventually moved into production duties, utilizing his home studio in Providence (nicknamed "The Parlor"). Eventually James Murphy joined the band as sound engineer (where he became known for a punishing tour PA setup, which he nicknamed "Death From Above").

Eventually the band broke up, and Maclean spent several years out of the music business, getting a degree at the Providence College and teaching English in New Hampshire. He continued a friendship with Murphy, who moved to New York City and founded influential dance-punk label
DFA Records and started LCD Soundsystem. Murphy urged Maclean to get back into music, and got Maclean experimenting with modern electronic mixing equipment; DFA would include several Maclean compositions on compilation records.

His first full length album on the label, Less Than Human, was released in July 2005."
Tracklisting:

1. AD 2003 (2:03)
2. Shining Skinned Friend (4:27)
3. Give Me Every Little Thing (5:25)
4. Tito's Way (3:40)
5. Love Is In The Air (2:54)
6. In The Afternoon (1:52)
7. My Time Is Running Out (5:21)
8. Crush The Liberation (6:45)
9. Dance With Me (14:07)
Download at 320kbps