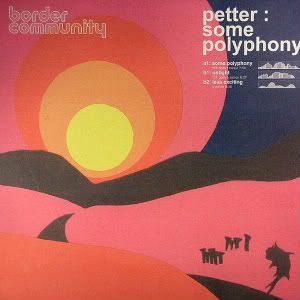 Petter
is another Swedish electronic producer that arrived on the scene a few years back when
James Holden
picked up his music for release on the cult-like label
Border Community
, arguably one of the most consistent and eclectic British electronic labels. This 3 track EP took a while for me to appreciate but it once again is the B side that converted me. The track 'Untight' is just something special, the arrangement through to the sound textures are just so clever. Don't disregard 'Some Polyphony' it's a typical Holden style tune.
Tracklisting:
1. Some Polyphony (7:58)
2. Untight (6:27)
3. Less Exciting (5:35)
Love the video clip too...
Vinyl Rip @ 320kbps