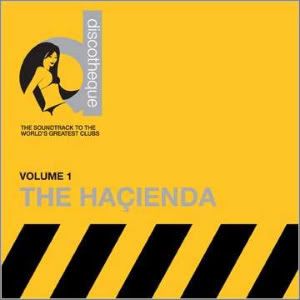 This is the first release in this series from a couple of years ago. I haven't seen any follow ups to it either, but its a 'nice to have', all those early cub hits in one place and whilst listening to it all those visions of sweaty Northerners taking way too many pills, glow sticks and shirtless football fans throwing shapes just seem to drift away. The fact that this entire club managed to squander the earnings from the
biggest selling 12" of all time
still never ceases to amaze me.
Highlights for me as always are
Vince Clarke
in
Yazoo
with the awesome
François Kevorkian
remix.
Cybotron - Clear
, and one of my all time favorites
808 State
- Pacific. There's other hidden gems amongst a thin slice of cheese but all-and-all a great unmixed compilation in a world gone comp mad.
I ripped this at 320kbps and consequently the file sizes are quite large. So its been split into 4 different parts. That's right, these are mp3's and not a DVD, stick with it, its worth it. Enjoy.
Tracklisting:
CD1:
1. Implog - Holland Tunnel Dive (Original 12" Mix) (7:48)
2. Heaven 17 - (We Don't Need This) Fascist Groove Thang (Original 12" Mix) (4:18)
3. Peech Boys - Don't Make Me Wait (Original 12" Dub Mix) (5:41)
4. Yazoo - Situation (Original François Kevorkian 12" Dub Mix) (5:46)
5. Klein & M.B.O.- Dirty Talk (Original 12" Instrumental Mix) (6:24)
6. New Order - The Beach (Original 12" Mix) (7:21)
7. Cybotron - Clear (Original 12" Mix) (4:52)
8. West Street Mob - Break Dancin' - Electric Boogie (Original 12" Mix) (5:09)
9. Grandmaster Flash & Melle Mel - White Lines (Don't Do It) (Original 12" Mix) (7:35)
10. Mantronix - Bassline (Original 12" Mix) (6:02)
11. Kid 'N' Play - 2 Hype (Original House Instrumental 12" Mix) (4:16)
12. Rob Base & DJ E-Z Rock - Get On The Dancefloor (Original 12" Gail "Sky" King Remix) (7:36)

CD2:
1. Bam Bam - Give It To Me (Original 12" Mix) (5:29)
2. Mayday - Nude Photo '88 (Original 12" Mix) (6:22)
3. A Guy Called Gerald - Voodoo Ray (Original 12" Mix) (4:27)
4. FPI Project - Rich In Paradise (Original 12" Instrumental Mix) (5:28)
5. 808 State - Pacific State (Original Album Mix) (6:28)
6. Sueño Latino - Sueño Latino (Original Latin Dream Mix) (10:36)
7. The 28th Street Crew - I Need A Rhythm (Original 12" Mix) (6:21)
8. De Lite - Wild Times (Original 12" Mayday Mix) (6:47)
9. Alison Limerick - Where Love Lives (Original 12" Classic Club Mix) (6:53)
10. Salt City Orchestra - The Book (Original 12" Paperback Vocal Mix) (7:28)
11. De'Lacy - Hideaway (Original 12" Deep Dish Special Edit) (8:43)
Part 1 at 320kbps
Part 2 at 320kbps
Part 3 at 320kbps
Part 4 at 320kbps