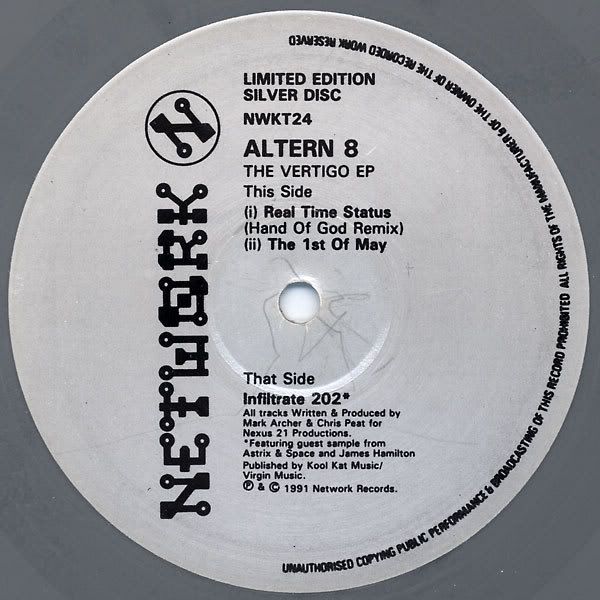 Ok hands up if you remember these guys. I was still at University when I parted with my weekly student allowance for this piece of vinyl. I loved it, partly due to the
808 State - Pacific 202
sample in the original mix. These guys went on to be instrumental in defining rave culture as we know it. Yes, I know it's my 2nd rave record posted in as many nights and I'll get back on track soon, I promise.
But in the meantime I'd recommend you read a little more about
Altern 8
, these guys were really farking cool.... here's some from Wiki:
"Altern-8 was formed in Stafford in 1990, as a side project to the already successful Nexus 21 (a name chosen because of its "technoey" sound), when both members were 21. From the outset the band's objective was to develop their style which was heavily influenced by the musical elements of the Detroit techno artists Derrick May, Juan Atkins and Kevin Saunderson, as well as the Chicago sound of Phuture and early electronic heroes Kraftwerk.



Altern-8 tunes changed the world of dance music

, influencing many artists, with their mixture of the sounds of the Roland TB-303, 808 and 909 with breakbeats and familiar samples. At the time in the UK, outdoor rave events were legal, and Altern-8 had a reputation for turning up to play at major unofficial events. They helped to define trends and anthems in hardcore techno with music that became faster, relying more heavily on bass and volume. The use of more bass and eclectic noises gradually evolved Altern-8's music away from the earlier house music style. The duo, dressed in chemical warfare suits and dancing "like electrified monkeys", took part in a large number of live performances.

In 1992, Peat entered as a candidate for the Stafford constituency in the General Election representing the Hardcore (Altern8-ive) party. He polled 158 votes and finished in fourth place."
Tracklisting:
1. Infiltrate 202 (Altern 8 Vs. Astrix and Space Mix)
2. Infiltrate 202 (Vertigo 7" Edit)
3. Re-Indulge
4. Real Time Status (Hand of God Mix))
Download @ 192kbps