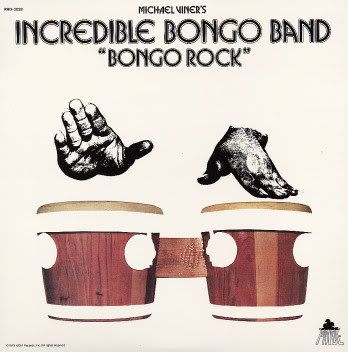 Ok let's rewind and take it back to 1973, when Michael Viner's
Incredible Bongo Band
decided to bash out a few instrumental tunes. Little did they know that one song in particular '
Apache
' was to become the backbone of a lot of today's modern day dance music genres. From Wikipedia:
"Apache has been cited by Afrika Bambaataa as an early element of hip hop music with the record sampled and scratched by DJs. But it wasn't the hit version by The Shadows, Ingmann or Weedon that Bambaataa, Kool Herc and the like turned into "hip-hop's anthem": it was the 1973 version by Michael Viner and an ad hoc group called the Incredible Bongo Band. They added a bongo drum intro and added more percussion. This version was not a hit on release but became the sampled foundation of rap and hip-hop classics, reworked by hip hop performers "ranging from the Sugarhill Gang and L.L. Cool J to The Roots and Nas, not to mention sampling by techno performers Future Sound of London and Moby and drum and bass acts J. Majik and Goldie."

This is the 2006 re-release with a few extra tracks and remixes thrown in for good measure.
Tracklisting:
1. Apache (4:51)
2. Let There Be Drums (2:39)
3. Bongolia (2:13)
4. Last Bongo In Belgium (6:53)
5. Dueling Bongos (2:56)
6. In-A-Gadda-Da-Vida (7:41)
7. Raunchy '73 (3:22)
8. Bongo Rock (2:37)
9. Kiburi (Part 1) (2:15)
10. Sing Sing Sing (4:14)
11. (I Can't Get No) Satisfaction (4:01)
12. Wipeout (4:30)
13. When The Bed Breaks Down, I'll Meet You In The Spring (2:33)
14. Pipeline (3:53)
15. Okey Dokey (2:50)
16. Sharp Nine (3:14)
17. Hang Down Your Head, Tom Dooley, Your Tie's Caught In Your Zipper (2:43)
18. Apache (Grandmaster Flash Remix) (7:27)
19. Last Bongo In Belgium (Breakers Mix) (6:29)
Download